Terapia antynikotynowa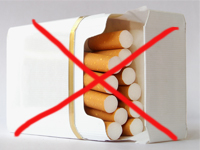 Coraz bardziej wzrasta w cywilizowanym świecie świadomość szkodliwości dymu tytoniowego na organizm człowieka. Mimo to wielu młodych ludzi sięga po pierwszego papierosa bo chcą spróbować, zaimponować, okazać swoją dorosłość myśląc, że w każdej chwili mogą przestać palić. Nic bardziej złudnego, gdyż nałogowcem zostaje się bardzo szybko a niezwykle trudno zerwać z paleniem.
Powinniśmy wiedzieć, że dym tytoniowy to trucizna zawierająca mnóstwo związków chemicznych.
Zatruwamy nie tylko siebie ale i osoby nam towarzyszące, gdyż dym z papierosa zawiera ponad 30 razy więcej tlenku węgla, od tego który wciągamy do płuc podczas zaciągania się.
Dlaczego nikotyna uzależnia?
Bo palenie sprawia nam przyjemność, a dzieje się to dlatego, że nikotyna wchłonięta do krwi i przetransportowana do mózgu pobudza wydzielanie dopaminy odpowiedzialnej za doznawanie przyjemności. Działa również na produkcję noradrenaliny powodującej chwilowe ożywienie i pobudzenie organizmu.
Po skończeniu palenia pojawia się drażliwość, drżenie rąk. Aby to złagodzić sięgamy po kolejnego papierosa. Mózg przyzwyczaja się do działania nikotyny i uzależnia od niej.
Zaczynamy palić coraz więcej i częściej. Ale nigdy nie jest za późno na rzucenie palenia.
Nawet po czterdziestu czu pięćdziesięciu latach palenia papierosów organizm zdoła naprawić szkody wyrządzone przez tytoń.
Jeżeli podejmiecie Państwo decyzję o rzuceniu palenia proponujemy skorzystać z jednej z najskuteczniejszych metod zwalczania głodu nikotynowego metodą terapii biorezonansowej aparatem BICOM.